<HOME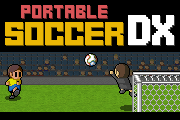 PORTABLE SOCCER DX
for android


DOWNLOAD (Google Play)

Full version


DESCRIPTION

This is the simple and complete 2D football action game for android. Let's aim the world champion.


RECOMMEND

Recommended particularly for people like following:


I like football-games.
I am looking for a more simple football-game.

I feel a little more complicated the recent football-games.

I like 2D better than 3D.